This abandoned bridge spanned the West Fork of the Trinity on the old Handley Ederville Road just north of Randol Mill Road 1/2 mile west of Loop 820. The present river channel in that area has been moved, straightened and levees built on both sides.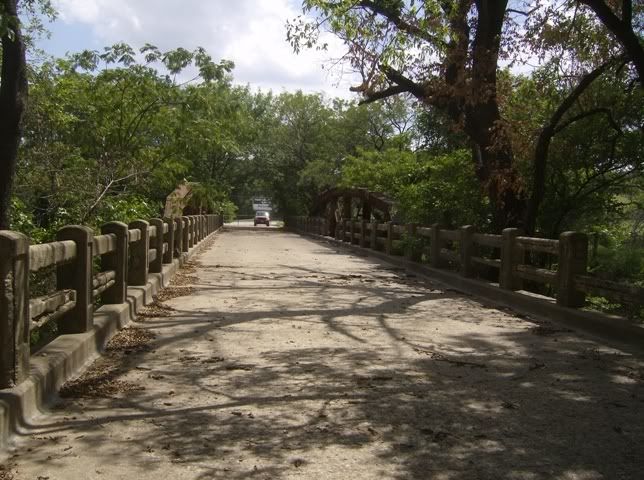 The bridge appears to have been built as a triple span steel girder with concrete siderails and curbs and is typical of ca 1910-30 construction. The center span appears to have been reinforced with steel pony trusses mounted outboard on new piers. Those pony trusses are typical of bridges from the 1870s and later and I suspect were salvaged from another location rather than being original to the bridge.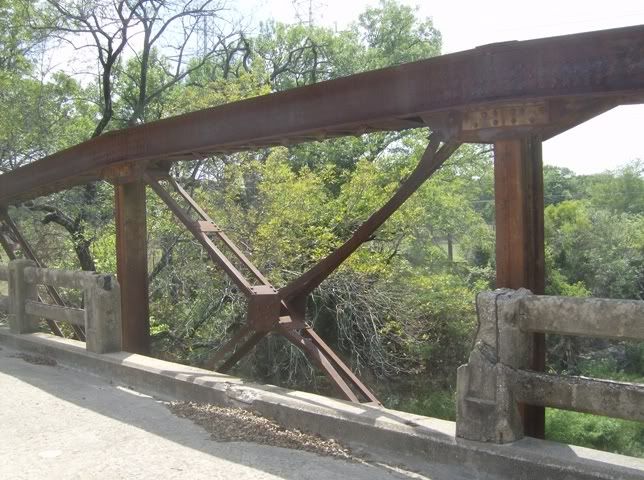 Does anyone recall the bridge before the trusses were added and/or when that happened?
The bridge was superseded by the present Handley Ederville Road Bridge and Bridgewood Drive. The old Handley Ederville Road south of Randol Mill Road was displaced by the Loop 820 construction in the early 1960s, but a 1979 map shows the old bridge and old Handley Ederville Road north of Randol Mill Road for a half mile or so still in use. Present Handley Ederville Road north from the new bridge is the same as it was pre Loop 820. Does anyone recall when the new bridge was constructed and the river channelized?
Mosier Lake, which is just northeast of the new bridge and extends under Loop 820, was also the original West Fork channel. It was mined for sand and gravel before its present recreational use. Does anyone have a timeline on that?
M C Toyer