This has been disscussed in other threads a bit, but noticed the rendering on the developers site. 
Some qoutes from an old FWBP article,
Oleander Investments, LLC plans a $40.9 million, five-story, 322-unit complex in the two blocks bounded by West Rosedale Street, Fairmount Avenue, Oleander Street, and Hurley Avenue. The 274,666-square-foot property would include 420 spaces in structured parking.

 

The Oleander developers are seeking $1.1 million in reimbursement for improvements they expect to make on West Rosedale, including replacing a retaining wall, Paine said. The group also plans stormwater fixes and streetscape work.

One of the two blocks is vacant, and the second includes an apartment building that the developers plan to demolish, Paine said.

The developers plan to start work on the 274,666-square-foot project in January and complete it in December 2016.

 
Here's a quick peak,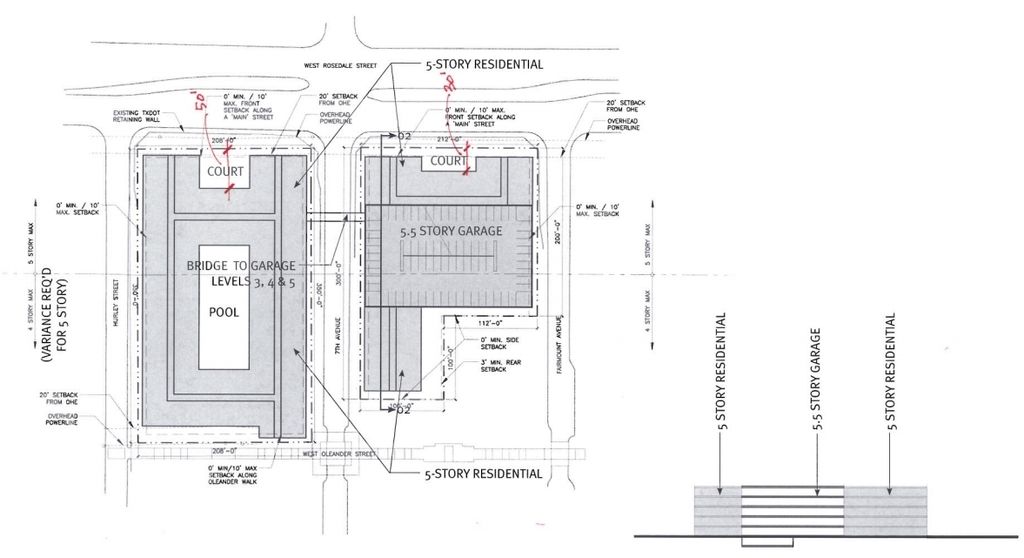 The location will be the large empty lot in the middle of the image and some of the apartment blocks to the East. Very close to Magnolia, Baylor, and Cooks. Great location. 
Very positive project in my mind. The location is great and should contribute pedestrians to nearby Magnolia and possible future Rosedale business. The ugly eyesore retaining walls and old apartment complex won't be missed, either. I really like the design of the building to,the colors are nice and the skybridges are very unique looking.