Howdy ya'll,
I recently ran into this old place while on a motorcycle ride to Walmart from my family ranch. The Rockin K Ranch in Godley, Texas est.1965, with my 13 yr old daughter on the back who is folllowing dad's foot steps learing and researching the history of Johnson Country and our familes ranch. I happen to be very fortunate to have every single abstract to title (and other docs of the times) on this property since it was grated a "land patent" from The State Of Texas Jan. 27th.  In this horde of documents I have an absract showing R.B. Godley himself owned this tract of land.
Anyway enough about me, 
Today May 20th, 2013, I stopped to take some pics of the relics that remain of this neat old place and ran into the man who leases the property. Here is what he said that got me busy on Google researching this old 1900th century ranch.
The current owner is a 94yr old woman he said  is named Armstrong. The gentleman also said she lives in Dallas and is still, "sharp as a whip". The place he said, "never had electricity or running water instead it used a cistern" which you can still the ruins of said cistern. The place has a bunch of 1900th century rock fence that surrounded the house and you can still see the ruins of the vat south of house remains on the corner of CR1228 as Ralph said.. This gentleman said the house burned 25 years ago or so. It was a community cattle vat (as far as I can tell on the Chisholm Trail, not far from where Buchannon would have been) as well as a staging center for local ranchers cattle. The Nolan River snakes all through this part of Johnson County. He could not tell me the origins of the ranch owners, their name or much more than that....he did give me the address....7601 CR 1228. Ralph Gardner or Garner said in his Cleburne Times article the vat has the initials, "EOH" chisled into the rock.
This place is about 1/2 way between the Old Bethany Cemetary off 171 and CR1228 and CR1228 and HWY4 NW of Cleburne.
If anyone wants to contact me about my document of the history of my place, get a email of some of these pictures or get more information about this excursion,  please email me. I would be happy to share the pics I took today via email as well. 
I welcome learning more
Rob Knowles
Rockin K Ranch
Godley, Texas
http://i1114.photobu...zps38b6b8f5.jpg
The Vat
http://i1114.photobu...zps2cfccbfb.jpg
http://i1114.photobu...zpsb6f3eeaa.jpg
http://i1114.photobu...zpsa40ccbf0.jpg
http://i1114.photobu...zpse8322fd0.jpg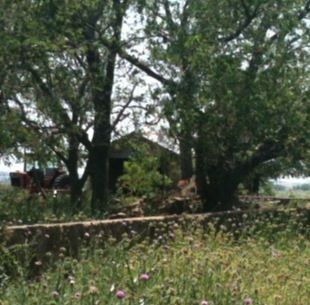 Test [img]