I made a little map of how I would judge the walkability of Dowtown, why not share it here and see what other forumers think. 
(click image to make it bigger)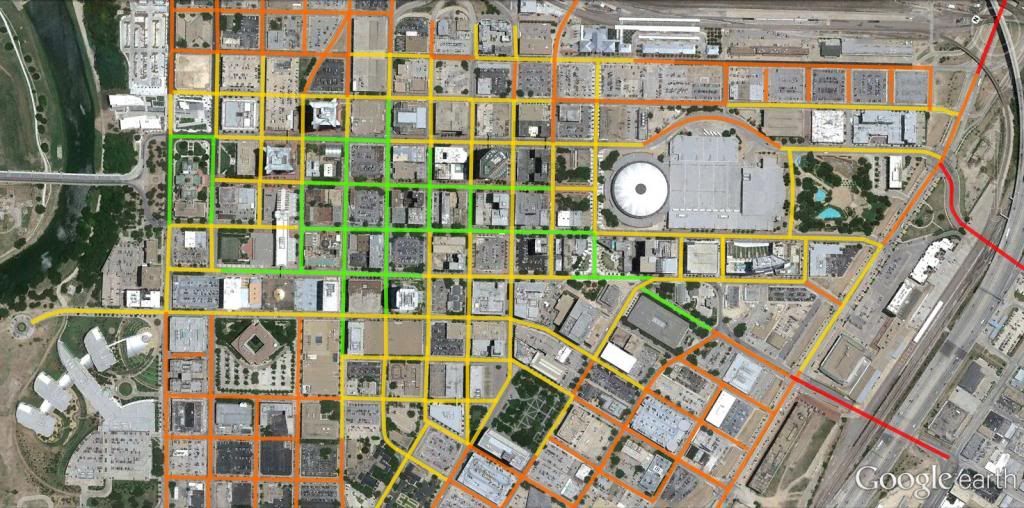 Green -Great-Lots of pedestrian activity, storefronts on both sides of the street, trees, wide well paved sidewalks, safety from cars, no litter, well lit, tasteful public artwork, good feeling of safety and activity.
Yellow -Acceptable-Streets that typically lack "something to do", usually bordered by parking garages, blank walls, or storefronts without business, less or no trees, less pedestrians, slightly dirty.
Orange -unacceptable-Usually streets with sporadic and short term pedestrians, surrounded by surface lots, dilapidated and abandoned buildings, chain-link fences, less lighting, more crime and vehicle traffic.
Red -Bad-Streets with focus only for cars, small sidewalks, high vehicular speed limits, tight spaces, little to no lighting, higher crime, litter and gang related graffiti, homeless habitations, no trees.
I'd say Fort Worth looks pretty good actually, compared to a lot of cities. Most of the "Great" streets are centered around Sundance Square, some of the parks, and Houston and Main streets. 
A lot of the yellow areas don't need much to become green. A Lot of the yellow areas appear on the opposite sides of large parking garages and superblocks. Planting some trees in some places (such as on 7th between main and Houston) would really be a simple spice some streets up. Some places could be greatly improved if surface lots where changed into places for people particularly the 3 large lots along Throckmorton between 4th and 8th. More interesting Business in the blocks near 7th nearby Burnett Park would be really nice.
Most of the Orange areas just generally lack development along them, and are just surrounded by surface lots.
Red, in most cases can't really be helped, but thankfully there isn't to much of it and is all along the freeways. 
(I'm currently working on making one for the 7th area, and I need to go do some more walking around the Southside and make one down there, or let someone else do it. )